"Screamfeeder are a four piece rock band from Brisbane who make young men dance like they've always known how. It's good to see. As were the largish number of attractive girls in attendance. All up with boys dancing wildly (myself included) and the girls drinking the bar dry (my friends included) ..it made the Healer quite the hotbed of youthful potency". Ian Rogers, Brisbane, 05/11/01.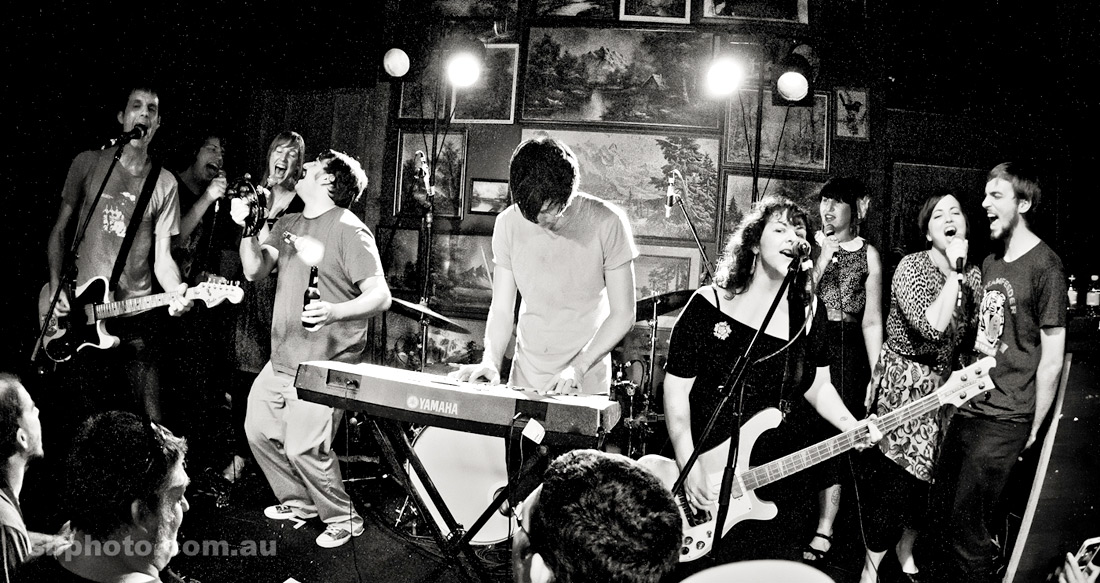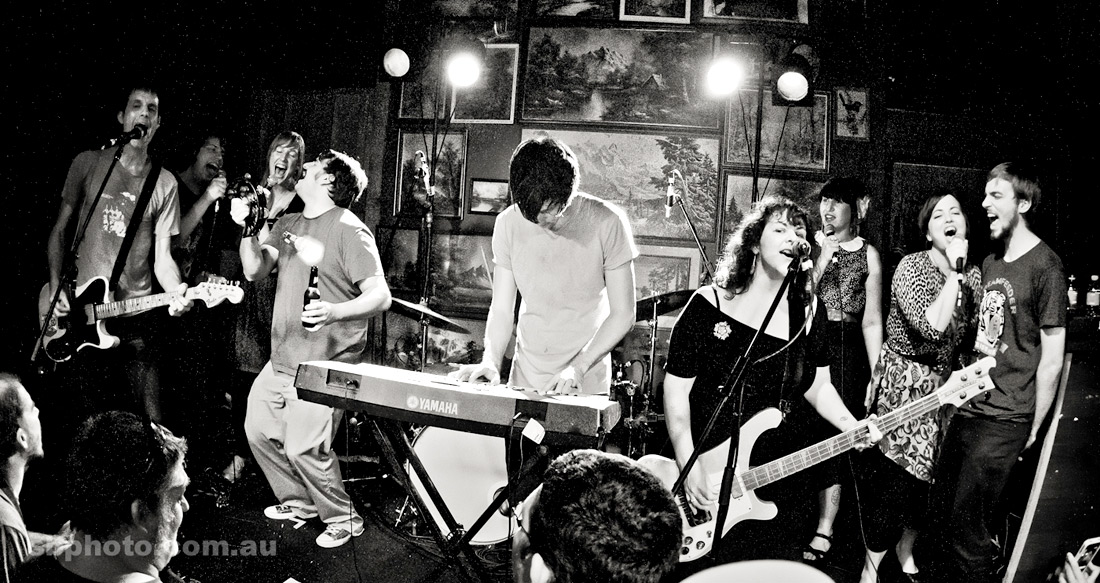 We've always been one of those bands who the critics and reviewers love (well not all of them) but the general public don't seem to give much of a toss about. Having said that, our fans are a fucking fantastic and really hard core bunch (both of them – ha!) and we really appreciate the effort that they all go to to express their love, from all corners of Australia and the globe.
Here's some general stuff from the noughties. If I'm ever laid up with a broken leg I'll start scanning the scrapbooks for earlier stuff.
Screamfeeder – Delusions of Grandchildren
Screamfeeder must surely be one of Australia's most prolific bands. Formed in the early 1990s, Screamfeeder have put out countless albums and EPs and generally outlived many other fine Australian acts that didn't have the stamina. Delusions of Grandchildren follows on from 2003's Take You Apart, and continues the band's excellent recent form.
Delusions of Grandchildren seems to be a bit of an attempt to find a home for unused material. Originally, the band was intending to release a single following their 2004 tour. With an eye to including some unused material the band considered making an EP and eventually settled on the concept of a 'mini' album. The seven songs were recorded at various stages over the past two years and were finally cut up and mixed down earlier this year.
The album opens with 'All The Other Times'. A simple song, focusing on a solid riff it's the band's way of reminding everyone why they are still relevant. They didn't become this popular by following some lame NME trend, they became popular because they are capable of writing good songs like 'All the Other Times', songs that are more resistant to sounding dated a couple of months after being released.
'Blue' was written towards the end of their 2004 tour in support of their greatest hits album. It focuses around a slow ascending progression that is balanced perfectly by the drums. It is a complete contrast to the first track and sounds like it would make a strong single.
'Delusions of Grandchildren' was one of the songs that had been hanging around in the band's archive for a while. Initially titled 'Delusions' it is probably the only track on the album that could have stayed in the archives. It falls short of the other songs on the album and sounds more like an overly long outro as opposed to a song.
The album takes a strange turn with the inclusion of a cover of Cyndi Lauper's 'Time After Time'. Were they trying to steal Kasie Chambers' thunder? Was the decision to cover the song due to Lauper's own retro-revival and return to grace? Who knows. Ultimately, the band is not really taking this song out to the edge, but to do the song justice, they don't really need to. Bass player Kellie Lloyd handles the vocals well and conveys an earnest honesty that matches the plain, but effective guitar playing.
From one tangent to another, Screamfeeder adopt a Rocket Science-like vibe on the next track, 'Summer Rats'. Written late in 2004, the song was resurrected when the mini album needed another song. While not destined to become one of Screamfeeder's best tracks, it has a punchy verse and really nice guitar playing. Overall, it feels slightly out of character for the band, but shows that they are still enthusiastic about music and being creative.
'Modern Morning' is more of a typical Screamfeeder song and is one of the stand out tracks. It starts with slow, meandering bass line that plunges the song into a stand out chorus. The song builds to a crescendo and then disappears into a spacy, improvised outro.
To round off the album, the band reworked an old keyboard sample into a song called 'Nuts to This'. The story goes that while sharing rehearsal space with Powderfinger in 2001, Kellie and Tim snuck into Powderfinger's room and started playing the Fender Rhodes electric piano. The resulting demo has been mixed with added synthesisers and a drum loop created by cutting up the tape of Dean Schwereb's drum part on 'Modern Morning'. It is one of the better pieces of album filler you're likely to hear in a while.
These seven songs highlight a band that was never really interested in building hype, but rather intelligent, enjoyable songs that capture your attention and make you want to listen to more.
thedwarf 2008
Introducing: Screamfeeder
Okay lets get this out of the way before we begin. It's cliché, but singles compilations tend to be a waste of time. Same goes for greatest hits compilations. Having said that 'Introducing: Screamfeeder' is perhaps one of the exceptions to the rule. It's hardly surprising considering the band has already released an excellent compilation of sorts way back in 1995, entitled '7 year glitch'. That record provided an interesting insight into the evolution of the band's style.
Given that the band has been around for over a decade, this cd provides a nice starting point for the casual listener. There's a nice mix of new and old on the disc. From the predictable choice of singles from their current album 'Take you Apart', to some surprisingly obscure tracks. 'Tower' is one such track. Penned sometime in 1988, it shows how much ground the band has traversed musically in the ensuing decade. Sounding decidedly lofi, it's a world apart from some of the more recent singles such as 'Bunny' and '12345'.
Screamfeeder have always had a knack for compiling a great 3 minute pop song. 'Hi C's' is testament to that ability. It manages to press all the right buttons; punchy, pacy guitars and catchy lyrics combine for an irresistibly energetic track. 'Dart' is much the same, filled with hook after hook it's the sort of track you find yourself humming hours after you first listened to it.
Certainly there is a wealth of fantastic pop songs on this cd, but there's also a bit more depth to the disc. 'Stopless' is glorious track. Ghostly vocals drift above lush guitars, creating a light and airy feel. Bassist Kelly Lloyd's vocals are simply sublime on this track.
The liner notes are one of the more interesting features of this record. Tim and Kelly provide some insights into the circumstances around the tracks and how they came about. However drummer Dean's sporadic and somewhat inane comments are the clear highlight.
Definitely more than just your average singles compilation, 'Introducing Screamfeeder' is just that, an interesting compilation of tracks from a wide cross section of tracks. To have heard all these tracks before, you'd have to be a rather dedicated fan, but then I guess this isn't really the target audience of this CD.
4.1/5.0 — Mahesh Perera – decoymusic.com
"The business of picking singles is a tricky one," says the inside cover to the latest release from Brisbane indie-pop favourites Screamfeeder. In the twelve years of their existence, they've certainly put out a few, and this twenty-two-track collection is a great showcase of their work to date.
Screamfeeder enjoy the contrasting reality of being an anonymous household name – plenty of people may have heard of them, but won't be able to identify exactly why. This record contains all the clues – the late '90s singles Triple Hook and Hi C's, catchy as all hell, which propelled them onto the big touring circuit, as well as the radio favourites from their most important and popular album, 2000's 'Rocks On The Soul'. As well as these, there's also a nicely chronicled history, beginning with Tower, written in 1988 when the band was called The Madmen, and ending with Bunny, their most recent single, a song that has very much grown on me since the release of last year's 'Take You Apart'.
The liner notes are comprehensive and revealing. Surely the explanations are the best part of any compilation, and this track-by-track rundown is up there with the best of them. This compilation works brilliantly in two ways – firstly, for the well informed, as a great abbreviation of a long and healthy career, and also (as the title suggests) as the perfect introduction – if you think you want to know more about these guys, get this.
Ben Revi
Introducing: Screamfeeder When bands issue singles collections it usually means one of two things: they're breaking up, or they're trying to fill their release quota to escape the clutches of an evil record contract. In Screamfeeder's case, it's neither. Instead, Introducing Screamfeeder: Singles & More 1992-2004 acts as a historical document, a refresher course in one of Brisbane's most successful and consistent indie rock outfits.
The compilation gathers all the band's hits, mixes them with a sprinkling of covers and garnishes with the odd "almost single". "We meet a lot of people who go, 'Oh, you guys play that song' or 'Yeah, I know that 'pattern forming' song'," singer and guitarist Tim Steward says. "Even when Darek [Mudge, additional live guitarist] joined the band he downloaded a few songs before his first rehearsal and he was like 'Man, I know all these'.
"Luckily, because it was strictly a singles collection the tracks were obvious," Steward says of the often difficult task of choosing a track listing. "But we did have some space left over and figured we may as well fill up the 80 minutes. So we put a couple of tracks on there from [covers EP] Home Age, as well as 'Lost In The Snow' and 'Wrote You Off'."
Releasing retrospective albums often sends bands down memory lane and allows them to put their current circumstances into perspective. But Steward and Screamfeeder are more interested in looking ahead.
"Since I got the box of CDs back from the pressing plant I haven't actually listened to it," Steward laughs. "A song like 'Tower' [from debut album Flour]; not only did we record it three times and listen to it for fucking forever when we mixed it, but I'm sure I've listened to that song a million times in my life!" While 'Tower' is unlikely to make an appearance for this weekend's album launch, a host of other 'Feeder classics will.
"We rehearsed 'Fingers And Toes' the other night and we might do 'Sweet Little Oranges' too. And we'll do [The Style Council's] 'Walls Come Tumbling Down' and all the Kitten Licks and Rocks On The Soul songs." This same quick-fire approach to making albums worked wonders for the band with last year's Take You Apart, making for a raw and energetic release many consider the band's best work.
"Not everyone would agree [that we're getting better with age] – some would say the earlier albums are the best – but as long as it's not plainly obvious to everyone that we're getting crap and going downhill then that's a good thing. You see some bands and you think, 'Dude, they're way beyond their expiry date – they should have stopped two albums ago'. As long as we don't head into that territory we'll be happy."
NICK COPPACK – Time Off, Brisbane 9/9/04
SCREAMFEEDER, The Rev, Brisbane, Friday 4/11 2005
Screamfeeder seem to disregard any limitations as they launch into their first hometown set since returning from their recent Japanese sojourn. Some of the still meagre crowd has at least made their way to the dance floor and for good reason as they demonstrate their proficiency with an effortless set showcasing a time capsule of their vast catalogue to date.
Delivering into the punter-void that is the Rev on this night, they give us Bunny as well as All the other times from current release Delusions Of Grandchildren. We are then informed that there has been no rehearsal for this gig (not that it shows) due to drummer Dean Shwereb's misadventures with a power tool during his day job. Accordingly, he is performing with fingers stitched and taped and is applauded as the true champion of the night by front man Tim Steward.
Kellie Lloyd changes roles and steps up to the keys for the sweet purity that is 1 2 3 4 5 before reverting back to her more familiar role on bass. Now I don't feel so bad and I don't know what to do anymore, amongst many others, are performed with the seasoned professionalism we probably take for granted from Screamfeeder.
Metal Mickey – nakeddwarf.com.au
Screamfeeder + The Gels, Russian Teammate. Jive Bar, Adelaide, Sat 4 Sept 2004
Screamfeeder have been kicking out some of the best indie rock music going around our fine nation for over a decade now, and Saturday night demonstrated exactly why they are still going; it's because they love playing together. Their unquenchable enjoyment in playing their music was not going to be dampened by the resurgence in Adelaide's winter.
There was no dramatic rock'n'roll entrance from Screamfeeder. They strolled onto the stage with a Soundgarden CD still playing over the PA, took hold of their instruments and started their set with And Tigers They Roam. Their dynamic musical intuition was especially evident between Kellie Lloyd (bass/keyboard) and Tim Steward (guitar/vocals) during the extended broken-down section of I Don't Know What To Do Anymore.
Bands can be separated into two categories; bands that attempt to completely reproduce their recorded sound live or bands that want to change things around and mix it up. Screamfeeder are unashamedly the latter, and on this occasion Steward seemed very pleased to change the patterns of vocal delivery especially for classic songs like Dart, which he must have sung a few hundred times. Occasional bum notes and imperfect timings can be forgiven when a band is fronted by a man like Steward, with such unique dance moves and impressive energy.
The band were all in good spirits, so much so that Lloyd happily escaped the safety of her keyboard during Now I Don't Feel So Bad to have a bit of a boogie in the middle of the stage. The band were having a blast; Steward even suggesting members of the crowd could come up on stage and sing any song with the band if they knew the words, but no one had the courage to take up the challenge. Screamfeeder had come to Adelaide to rock out, and that's what they proceeded to do, their energetic performance of Bunny showed what a far superior live song it is compared to its recorded form.
The night ended with On A Plane With Just One Wing, unfortunately the crowd was apathetic and so there was no encore, but Screamfeeder had certainly put on a worthy show and had reminded all present of the quality of their back catalogue.
Scott Berry
SCREAMFEEDER, BIT BY BATS, DOLLAR BAR, TURNPIKE, THE RATIONAL ACADEMY | 610 ANN ST | 09.07.05
After midnight, the pop comes strong and sweet as expert local trio Screamfeeder cap the night off by launching their new EP. With a set consisting mostly of tracks from 2003's Take You Apart, the audience relish in the songs' perfect delivery. Tremendously tight and talented, Screamfeeder fill the wide spaces of the old art gallery with joyous noise. Classics 'Bunny' and 'Hi Cs' bring an end to a memorable showcase of what should be a well-received new disc.
PAUL DONOUHUE | Time Off
SCREAMFEEDER, SEKIDEN, LANCASTER | THE TROUBADOUR | 10.12.04
The Troub' resembles a vastly overcrowded hallway as Screamfeeder make their presence felt. They cut through the humidity with the bygone era 'Explode Your Friends' and so begins another classic set. The frenetic 'Bunny' is flanked by the snarling 'And Tigers They Roam', demonstrating just why this band is near-peerless in Australian rock.
The now-trio dust off 'Static' and steamroll towards set highlight 'Now I Don't Feel So Bad'. The band squeeze one last drop out of the night with the immortal 'Hi-Cs' and send a steaming, but smiling, crowd back to the street and the bittersweet relief of Brisbane summer rain.
ROBERT LUKINS | Time Off
Screamfeeder – Take You Apart Rhythm Ace Records
A lot can (and does) happen to a band in the space of thirteen years – especially one that teeters on the edge of cool and and/or mass acceptance. Screamfeeder have had their fair share of both hype and indifference, depending on the dreaded weight this week's fashion brings to music. Despite the rocky road, folks with a copy of "Take You Apart" are currently walking the streets with fists in the air as it's an absolute cracker!
After the light strum and noodly keyboards of opener "Now I Don't Feel So Bad", "Needles" comes out like a train wreck from hell, all buzz saw guitar, doctor/patient dialogue and driving rhythm. "I Don't Know What to do Anymore", replete with handclaps (some well placed smackers in a song are always a winner, Tumbleweed's Richie Lewis and You Am I's Tim Rogers being damn fine exponents over the years) is a scorching celebration of indecision, the rolling riff nearing the end gets me to rock-dreaming about Pete Townshend and Tim Rogers trading windmills onstage. Exhilarating stuff. Those claps make a most welcome reappearance on "And Tigers They Roam" with the deliberately (??) botched first chorus a very endearing touch. Tim n' Kellie's distinctive twin vocal attack has never sounded more sublime than on "I've Got The Knife" – talk 'bout being at the height of yo' powers!
An older brother once looped the latter part of "Hey Jude" repeatedly over one whole side of a tape, something I'd like to update with this album's centerpiece n' masterpiece "Me and You". A fantastically rousing six minutes of perfect indie gospel (and they're cobbling together a choir for upcoming shows which should prove entertaining!), so good you just wish it would never end.
Lyrically the themes centre around regret, loss and the salvaging of relationships with a highlight the heart-rending "my writing's bad, but here's my letter, I'll let you know I wanna make it better" from the single "12345". "I could forget you like you were never there" from "I've Got The Knife" finds them in a more pensive mood, but like the troopers they are they never forget the importance of a simple melody and hooks to die for. Yeah there's sadness here, but Magoo's lively production ensures the songs really burst from the speakers and that gives the whole effort a real brightness.
We're incredibly fortunate to have Screamfeeder still recording and treading the boards and sharing their handclaps, skills and sense of fun with us. While this a brilliant album (my album of the year for what it's worth) it's exciting to think there may be better to come. To quote St Nick, "bring it on" – age ain't got to em' yet.
2003 Brian Stradbrook www.lunakafe.com
I DON'T KNOW WHAT TO DO ANY MORE
"It's an absolute pleasure to hear this new single, a gem of a song that weaves its way into your head on first listen and buries itself deep into your subconscious. It opens with handclaps, a summery bassline and minimal guitars before Tim Steward's vocals enter. He repeats the song's title many times throughout, a phrase guaranteed to strike a chord with anyone who's ever been confused. The 'Above The Dove' remix is killer too"
RAVE MAGAZINE
"Seems as if Screamfeeder are still in the thick of a creative purple patch. Ice Patrol was one of the most distinctive and atmospheric singles they've released, and now I don't know… sees them effortlessly conjure a straight ahead, joyous pop tune. Arrangement wise, its back to basics with a simple guitars/bass/drums approach, but this only focuses attention on Tim Stewards 24 carat hooks and alternately punky/melodic vocal performance. The sound is as brightly cheery as the lyrics are downcast. And any song that has a key change for the guitar solo has to be good (hey it was good enough for the gunners)."
TIME OFF
"Rocking out and dropping their almost melancholy sound from the past, Brissy outfit Screamfeeder pump out yet another great single. Featuring the drawling vocals of Tim Steward, Screamfeeder reinvent their sound with tight production and rolling rock riffs. Good harmonies set to a suitable formula, the single features 3 remixed tracks from previous albums. They seem to get it right with every release and this one is a true example of their time on the road and the experience that comes with it"
TSUNAMI MAG
This single is a rather strong indication that Screamfeeder's new album could be the bands strongest to date. Not counting the chickens just yet but the next couple of months could be of an eye opening sequence as far as Screamfeeder is concerned."
ANEMIC MAGAZINE
"An offering that's a bit tougher than usual for the Feeder, and a good thing too- cos we all know what they can do. A bit of a mess too, when we get down to it, but a messy good time indeed."
BEAT
SCREAMFEEDER :: TAKE YOU APART (Rhythm Ace)
It's one of life's great mysteries that local indie-rock group Screamfeeder aren't superstars. God knows they certainly deserve to be, especially with tunes as good as those on Take You Apart.
After the oft-cluttered, multi-layered Rocks On The Soul, this time around the group strip things back and deliver 13 cuts of unashamedly punchy rock. The inclusion of keys on tracks like 'Now I Don't Feel So Bad' and the infectious single '12345' add another dimension to the sound, as do handclaps on 'I Don't Know What To Do Anymore' and a resounding choir of voices in 'You And Me'.
Elsewhere, the punkier 'Bunny', hook-heavy 'And Tigers They Roam' (dear me, that bass line is sublime) and high-energy 'Same Mistakes Again' rival the quality of past 'Feeder classics like 'Dart' and 'Hi-Cs'. In fact, you'll struggle to find a single song on Take You Apart that doesn't hit you in the chest, fire your soul and make you wanna dance.
Forget Jet, The Vines, even You Am I… Screamfeeder are hands down the country's best rock band and Take You Apart is all the proof you need. For real.
Nick Coppack
Screamfeeder Take You Apart
The first time I really took notice of Screamfeeder was around this time last year. They were the second support act for Sleater Kinney at the Zoo in Brisbane and had some rather large boots to fill. Needless to say, Screamfeeder did a great job at winning over another bands crowd. After spending the next 12 months (yes, that long!) in an apparent daze wondering how I could get some their music, a shiny new copy of Take You Apart was placed on my desk. O what a glorious day!
As you may or may not know, Screamfeeder have been around for quite some time and this latest effort is definitely their best. Take You Apart is thirteen tracks of melodic punk-pop bliss and the band impress right from the start. The opening tracks guitar is reminiscent of early Pavement, with Tim Steward belting out some of his best lyrics. "I never associated feeling young with being sad," he croons in "Now I Don't Feel So Bad'.
The band show their influences a little too much, but with influences like theirs who can blame them? "And Tigers They Roam' and "Same Mistakes Again' are the kind of ska inspired punk tracks that can turn cringes into smiles. Screamfeeder aren't afraid to slow things down either. The six-minute "You And Me' is a slowing building duet with bassist Kellie Lloyd that offers a climatic sing along chorus you could listen to all afternoon.
"Bunny' and "I've got the Knife' offer moments of melodic punk bliss, with washy guitars and solid arrangements. "I Don't Know What To Do Anymore' is the highlight of the album, showing that Screamfeeder have the potential to shed their influences and become one of the best indie acts in Australia. If you don't think they are already, that is.
4/5 Thomas Duggan – SPEEL MAG (Central Qld) 30/10/03
SCREAMFEEDER. SMILING STARS AND MUSICAL NOTES
From striking artwork through to its "all killer no filler' tracklisting, Screamfeeder's latest album Take You Apart is arguably their most accomplished to date. It's a big call given they've been releasing albums since 1992's Flour LP – including the likes of Kitten Licks, double longplayer Seven Year Glitch and 2000's Rocks On The Soul.
Modest bassist Kellie Lloyd is thankful for the praise, quietly admitting the three-piece of her, Tim Steward and Dean Shwereb had an inkling all was on target. "Just when we got all the artwork together – and even before that when we were mixing it – we were going "This is a good record'," Lloyd recalls. "It all sounds good… It wasn't laboured over too intensively, so it still remains quite raw. We really love it."
Compared to the last record, the songs on [Rocks On The Soul] were quite long and we put a lot of sounds in there. This time the songs are short and [although] we put things in, instead of adding more things we found ourselves taking things out. The songs pretty much stand for themselves more than being prettied up by production. We're really happy with these songs. We were just writing them in the practice room and they came together really quickly. It wasn't hard to do."
Kellie says the process benefited from a change of attack when they brought in some keyboards.
"I found I was getting bored just trying to come up with stuff on the bass. We started writing songs off keyboard riffs, which was a bit more inspirational in a way, because Tim had something to work off that was different than just a bass line. The keyboard lines had a nice texture, so he could complement that. It's just a different way of writing. Once you know how to write songs, it's good to sort of throw something a bit different in there. It feels like you're doing new stuff."
One of the album's undeniable highlights is "You And Me', a number which finds the band backed gospel-style by a motley choir. "We were just mucking around in the practice room," she says of "You And Me'. "Tim was just playing the chords, I started singing until I came up with the chorus. The next day we sort of sat at his kitchen table and banged out the lyrics. It was strange because we've never actually written lyrics together before, so that was something different again. It was very easy to do – it's just a really simple song.
"[In the studio] we got all these people to come in, like Steve from The Anyones, Tylea and Magoo, Janet from Spiderbait, Lara from Slinky in Melbourne… They just sang and I've never experienced anything like it. I was just getting goosebumps and I couldn't wipe the smile off my face, having all these people singing this song you've written. Even when I hear it now I get goosebumps – it's just amazing."Equally amazing is the artwork by Tess Donoughue, who the band sourced through unique means.
"We advertised on the website that we wanted someone to do the artwork for us, like a competition, because we didn't have any solid ideas. We had quite a few [submissions] but Tess sent us her ideas, these girls incorporated with telephone wires and wheat and birds… Then she put us into these bodies as well. Everything about it is just perfect for the name of the album and for what the album is."
Although they've just released Take You Apart, Lloyd says the three-piece have already started writing songs for the next album. "We got into this mindset where [although] we'd just done the record, we decided instead of having four months where we didn't really do that much, we thought "Right, let's continue going into the practice room every week and try and write some songs'. We've got four already, so that's kind of exciting to know that we're still very enthused about it even before this record comes out."
So what's their secret? After more than a decade together, how can Screamfeeder still deliver? "I think it's because we're very good friends. And we mix it up a bit. I mean, we practice a lot but when we play live we always throw something weird in there – we don't know how the song is going to end or we don't know what Tim's going to do in the middle of "Hi-Cs", for example. It depends on each gig.
"Also, a lot of the bands that were coming out around the same time as us went on to major labels and did all that thing and got really big. I think they may have burnt themselves out. We'd always been in this position where we're very hungry. Like, we've never had anything laid out for us. We've had to work really hard but we never took any of it for granted. We've never played a show and thought not enough people turned up. I think if you're in a really big band you can get jaded a lot quicker than if you're not.
"We've [also] never had to bend for anyone. We've always just made the records we've wanted to make. We've never been a numbers band, we're just passionate about playing music together and writing songs. That's what it is for us." Take You Apart is out on Rhythm Ace/MGM. Screamfeeder launch it at The Zoo Friday Oct 24.
MATT CONNORS Time Off, Brisbane, 20/10/2003
Screamfeeder, Take You Apart ****
IT HAS been a long and frequently frustrating journey through some great gigs, dashed hopes and cool tunes for Screamfeeder, the Brisbane trio whose debut album was released in 1992. And when others might have given up in the face of late nights, low pay and long drives, they have persevered and delivered the record of their lives. While The Strokes' album will probably sell millions and Screamfeeder probably will not, there's no doubt which one I'm enjoying more at the moment.
It's difficult to put a finger on exactly what lifts this Screamfeeder above their earlier albums except to say it's more consistent – 13 tunes, no filler – and its ragged, infectious spirit evokes all kinds of glories: classic soul records, the early Who singles, the fire and fun of bands such as The Jam and The Replacements.
Take You Apart is the sort of record I had hoped Mick Jones night have made – Tim Steward's singing voice is reminiscent – when he left The Clash. But great rock 'n' roll is about the spark created by a band and Jones never quite found that again after the split with Joe Strummer. But Steward has plenty of it with bassist Kellie Lloyd and drummer Dean Shwereb, who took inspiration from old soul records and provides the urgent pulse at the heart of Take You Apart.
It's an album packed with so many pop-rock delights it's hard to know where to start: the call to the dancefloor of I Don't Know What To Do Any More complete with Keith Moon-style drum explosion to finish; the tingling soul ballad You and Me; Lloyd on lead vocals for The Space That's Left, with its gently gliding verse and roaring chorus built around just two chords. But great rock music isn't about how many notes you play. It's about what you do with the few good ones that you put together.
The album has a warm yet crisp sound, the guitars mostly lean and clean, with organ parts adding colour to tunes such as the exquisite 12345. Highlights are many, but it's hard to go past I've Got The Knife, one of the best tunes of the year, with its infectious melody and lyrics with just the right mixture of yearning, regret and hope.
That's another element which makes this record special: lyrics that have something to say, that ring true, paint pictures, are worth your time and money at a time when the quality of lyric-writing in pop and rock generally seems to have hit rock bottom.
Rock music isn't like Australian Idol, it's not a competition, but when you race into the record store to pick up The Strokes album this week, ask to hear I've Got The Knife and see if you can resist.
Noel Mengel, Courier Mail, Brisbane 22/10/03
Screaming Hits
Screamfeeder are going off with a scorching new album. Noel Mengel reports THE buzz has been out for months: Screamfeeder have really nailed it this time. That word of mouth has spread from those who have heard their new tunes at recent gigs or those who've had a sneak preview of the Brisbane trio's long-awaited new long player, Take You Apart.
Every new record gets talked up, of course, but in this case the buzz is spot-on: Take You Apart is a cracker, one of a bunch of sizzling rock 'n' roll records from Brisbane bands this year. In a world where hype, image and making a big initial impact seem to be becoming more and more crucial, Screamfeeder really have taken the long way to the top, from Tim Steward's days in a Townsville band called The Madmen, morphing into Screamfeeder in Brisbane in 1991 with the arrival of Kellie Lloyd on bass, later joined by Dean Shwereb on drums.
It's been 12 years of sweat and struggle since their debut album, Flour, but a record as perfectly formed as Take You Apart is sweet vindication that the battle has been worth it. That is a long time batting in the lower divisions: an early song popped up on a compilation with other young hopefuls such as You Am I and Tumbleweed, while it has been been more than 10 years since they first toured in Europe with The Screaming Tribesmen.
Steward has a quiet chuckle reflecting on just how long they have persevered. "Many times it's been a struggle," he says. "We've had plenty of hassles with record companies, we've been here, there and everywhere with record labels, but who cares? We're still doing what we love and we're very proud of Take You Apart — that's the bottom line." Certainly, few bands strike a creative high six or so albums into their career, but surely this one will win its due as one of the best Australian rock albums this year.
The splendid I Don't Know What To Do Any More has been getting plenty of airplay from Triple J, but that's just the start of the fun, from deliriously catchy pop singalongs like 12345 to the ever-building chorus of soul ballad You and Me and the magnificent I've Got the Knife. Simplicity and fully formed tunes are the key ingredients, as well as lyrics which actually have something to say.
'We did the demos very quickly and said to ourselves `This should be simple' and it was. We've been in the studio so many times now that it's a fairly easy process. The songs dictated that we record them live because they are straight-ahead tunes. 'We've been playing some of these live for up to a year now and they go down a treat. They are simple songs, they don't require intense concentration or anything like that. But they are a joy to perform and the people who are coming to the shows really pick up on that.'
Noel Mengel – Courier Mail, Brisbane 26/10/03
SCREAMFEEDER 1 2 3 4 5 (Rhythm Ace)
Screamfeeder throw a spanner in their own works and come up winners on a tune that adds the ever-so-tiniest touch of glam attitude, and the ever-so-teeniest touch of Asian flavour to their candy guitar pop formula. It's a godsend for the band and it's almost enough to revive interest in an entire career…
BEAT Mag
"Forget the boredom inducing whine of something for kate, if you're after guitar pop that leaves the pretension to the prima donnas look no further than singer/guitarist Tim Steward and his long serving partners in Screamfeeder"
Blunt Magazine
"13 tunes-no filler and its ragged, infectious spirit evokes all kinds of glories: classic soul records, the early Who singles, the fire and fun of bands such as the Jam and the Replacements. Highlights are many but it's hard to go past "I've Got The Knife", one of the best tunes of the year, with its infectious melody and lyrics with just the right mixture of yearning, regret and hope."
Courier Mail
"Simplicity and fully formed tunes are the key ingredients, as well as lyrics which actually have something to say. Certainly few bands strike a creative high six or so albums into their, career but surely this one will win its due as one of the best Australian rock albums this year."
Courier Mail
"With attractive lyrics and placid keyboards being the main highlight, "Take You Apart" no doubt holds some of Screamfeeder's best songs to date. Its diversity is cryptically intelligent, while Screamfeeder, as a band have refined immensely. Certainly the brightest release to come out of Brisbane this year, as you get the feeling that Screamfeeder are one of those bands who continue to get better with age."
Anemic Magazine
"If ever the adage "all killer and no filler' applied, it does with "Take You Apart', one of the Australian albums of the year"
Tsunami
"Their latest is a no-fuss, boiled-to-the-bone rock record that bristles with energy and focus, leaving plenty of space for subtle melodies, simple hooks and Tim Steward's hope-filled voice"
Rolling Stone
"Forget Jet, the Vines, even You Am I, Screamfeeder are hands down the country's best rock band and "Take You Apart" is all the proof you need. For real."
Time Off, Album of the Week
"This is Screamfeeder stepping back a bit and taking stock, in the process avoiding the more detailed production of their last effort and finding a sharper, simpler way of delivering their brand of indie rock. There's a track called "I Don't Know What To Do Anymore" but don't you believe it."
Rave Magazine
"The opening track "Now I Don't Feel So Bad" is an anthem for thirty-some-things, "I've Got The Knife" is destined to become a guitar pop classic and the 60's style ballad "You And Me" is nearly as hooky as "Hey Jude".
Sain Magazine