I like cheese, beer, scrabble, playing the trombone, and long romantic walks on the beach at sunset. My first band was the church band at St Alban's catholic church – playing rhythm guitar – not sure if I was kicked out as such, but I only lasted a few gigs. I grew up on a steady diet of Buddy Holly, Joseph and the Amazing Technicolour Dreamcoat and the Beatles (thanks Mum) immediately followed by punk rock. I grew up in England, starting high school when punk reached my London suburb in 1977. You do the maths, go on I'm not doing it for you.
In 2017 I was featured on Scott Mercer's podcast Gimme Empathy.
I moved to Australia in 1983 and started getting into The Birthday party, The Smiths, The Cure, Husker Du and smoking pot. I went back to England in 1986 and bought my first electric guitar – a Les Paul copy – for £20 from my old school mate Nigel, who wasn't going to need it – he went on to become a priest, living in the Vatican in Rome! I was working in a hospital at the time and used to write lyrics in my lunch hours. I've still got them somewhere. The first song I wrote which ever got used was called Headache.
Eventually I unscrewed the neck from the guitar, and put both halves in my suitcase and came back to Townsville and in that in likely location put a punk band together, The Psycho Skate Smurfs on Smack – modeled on early 80s English punk bands, The Exploited, Discharge, the Subhumans etc – who became The Lethal Injections a couple of weeks later. We had this really big skinhead guy called Dave as our singer – a really imposing presence. I've never been much of a singer myself, but as I was writing the songs and showing him how to sing them, he stepped aside and I ended up becoming the frontman by default.
We played our first gig on May 1st 1987 at The Mushroom Club. I was so nervous I had to go for a walk to calm down. Later we started to get a bit poppier and became The Madmen after that, and moved to Brisbane in 1989 after putting out 3 records and organising some tours to Brisbane ourselves. We put out one more 7″ in Brisbane then we met Kellie and changed into Screamfeeder in 1990, and the rest, they say, is history.
Here are a bunch of photos (mostly from facebook) from the late 80s – early 90s. The first one is The Madmen in 1988, me, Jeff Johnson and Tony Blades (who would drum for us until 1994). There are some with the next Madmen bassist Cam Hurst, and then a couple after Kellie joined. We changed the name very soon after she did.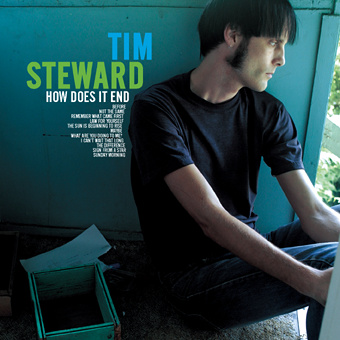 I started recording demos in about 1999 for what would become my solo album HOW DOES IT END (released 2006). I wrote loads of songs and whittled it down to 12 or so for the album. I'm happy with it, but writing and recording a solo album was the most work-intensive thing I've ever done in my life, I'm not sure if I'll be doing it again in a hurry.
Promo photos – mostly by Kellie Lloyd – 2006
Various live shots 2005 onwards
In 2003 and 2004 I took part in a performance of a show doing Bowie's Ziggy Stardust and the Spiders from Mars at The Zoo (June 2003) and The Tivoli (May 2004) – both in Brisbane. Every song had a different singer. I did "Star". The second gig I was really sick, but managed to not only get the high notes but remember most of the words ok too.

I was chuffed to be commemorated in the Fortitude Valley Mall in 2012 with this plaque, in recognition of my song Not The Same winning Q Song of the year in 2007.
Tim Steward Band
This was the band that formed to play the songs from How Does It End. It eventually morphed into WE ALL WANT TO proper in about 2009.
This was our boys-only band line up before Todd and Skye joined, playing at Brisbane's Press Club for the BigSound conference showcase in October 2007. Songs: "The sun is beginning to rise" and "Back to the car" (first ever performance).
This is the old line up of the band, playing "before" and "the difference" at the Q Song awards at Brisbane's Tivoli Theatre on 14th of August 2007. I ended up winning 2 awards for "not the same" which we also played but ran out of memory on the camera. Filmed by Jo Bell.
Here are a bunch of flyers and things – both from solo shows and with The Tim Steward Band – before we christened ourselves WE ALL WANT TO
I was more than a little chuffed when Stuart McMillan at Recombinant Records included me in his musical musings coming strip in 2009.