Screamfeeder are from Brisbane, Australia.
The band is Tim Steward, Kellie Lloyd and Darek Mudge, with Phil Usher on the drums. We formed in 1991. Yeah it's a long time; too late to stop now.
Bio 2022
Screamfeeder. A noisy pop/indie rock band from Australia. Lovers of loud and beautiful music since they were each conceived, they have been compared to all the greats; Husker Du, The Jam, The Replacements and The Who. Contradictions and dualities abound within Screamfeeder, and therein lies their beauty.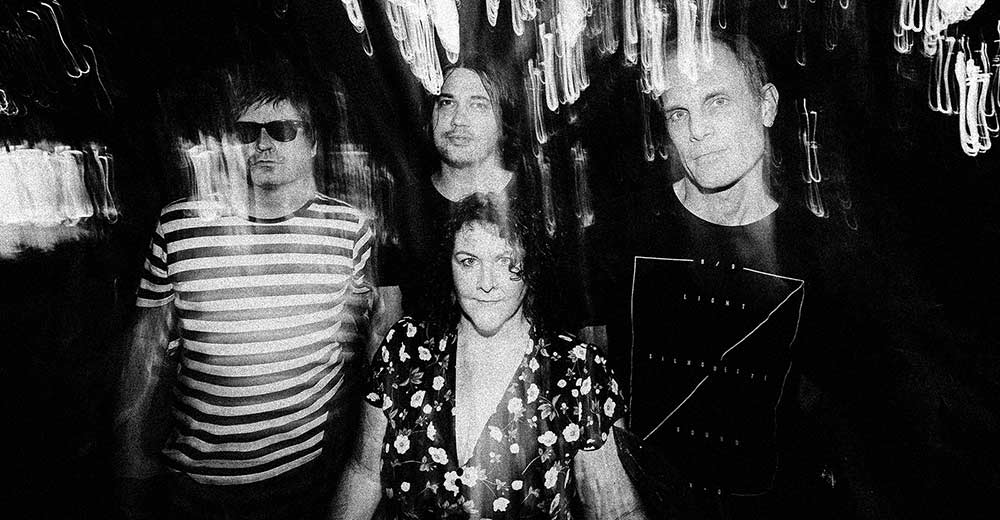 They're the band you grew up with, whose songs are imprinted into the DNA of every music-lover who came of age in the 90's and 00's. A band of eternally-youthful fuzz-pop darlings who, however improbably, have continued to play together for 30 years and somehow have not only gotten better, but have become even more loved. A band that combines loud with beautiful, intense with joyous, chaotic with precise and pulls it all together in a way that very few acts ever manage.
Two tours cancelled in the last two years mirrors most musicians' recent experiences, but 2021 saw Tim and Kellie write a bunch of new songs, their first set since 2017's Pop Guilt, and the band came knuckled down to create a new album. Entitled simply Five Rooms, it was released to unanimous acclaim in May 2022. It's another Screamfeeder classic, mixing sharp pop hooks with slower wall-of-guitar anthems, a record unlike anything else on offer at the moment and proof that great songwriters never lose their touch.
"After five years of waiting, Brisbane alt-rock icons Screamfeeder have returned with their triumphant new album, Five Rooms… it's Screamfeeder at their very best." (Rolling Stone)
Five Rooms was recorded with producer Anna Laverty (Courtney Barnett, Camp Cope) and mixed by Beau Sorenson (Superchunk, Bob Mould) and Travis Harrison (Guided By Voices, Built To Spill), who have delivered a thoroughly modern rock record that fairly bursts out of the speakers.
The album features a 50/50 split of Tim and Kellie songs, highlighting their songwriting chemistry as well as differences. Kellie's songs are epic, hypnotic and grandiose. Tim's are short, sharp and punchy. All the songs have a raw, immediate feel; after 30 years you can tell Screamfeeder really like standing in a room, rocking out together.
After a power-packed series of rapturously-received shows across the country in June 2022, Screamfeeder will return to the live stage in October and November this year. You might want to be there to see for yourself what everyone is saying – this band is at the peak of its live power…
Screamfeeder believe in writing good songs and performing them like their lives depend on it. Old school? Shit yeah, and proud of it.
"Five Rooms is a thunderous and evocative album: filled with a certain melodic sweetness that is underpinned by a raw, organic instrumentation with shades of light and darkness, subtle at times, fuzzy and muscular at other times. This is a band at their very best, showing creativity has no use by date." (Backseat Mafia)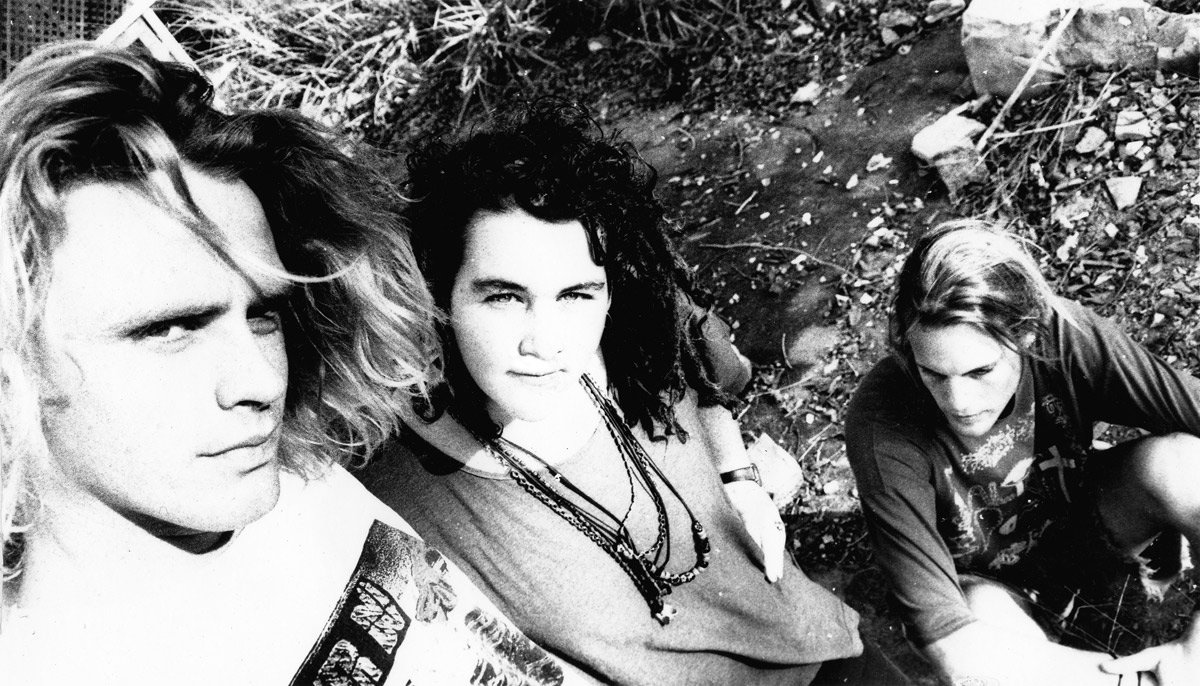 The longer story
We christened ourselves way back in 1991. Kellie had joined Tony and I in our old group The Madmen, and we were thinking about what to do next. We decided to record some demos; we had new songs which seemed to be a quantum leap away from the old stuff, so we went to a studio on the Gold Coast and recorded 4 tracks. We thought they sounded absolutely awful and it depressed us a bit. We contemplated splitting up then.
They don't sound too bad now – but that's hindsight for you. Anyway in a final effort to get something to tape which sounded presentable we went to Vibrafeel Studio in Inala. It was a nasty little brick place in the roughest suburb in town, but it was run by an infectiously enthusiastic engineer Mick Borkowski who nailed the sound of the band at the time and gave us a tape with 4 songs which we felt confident enough to shop around.
Steve from Waterfront told us he liked the tape but we should think about changing the band name.. and a couple of months later I was on the phone to Survival Records in Sydney who wanted to sign Screamfeeder for a publishing deal, including – I'm pretty sure – a $1000.00 advance. I was covering the phone mouthpiece with my hand and saying "they're going to give us MONEY!" to the others in the room. We couldn't actually believe it – this was in the days before bands from Brisbane even got looked at by Sydney labels.
Our first album FLOUR came out, and we started touring a LOT. The label got us to come down to Sydney to record our next one BURN OUT YOUR NAME in 1993 and promptly sent us off on tour to Europe – where the label had an office – in a coach alongside The Screaming Tribesmen and The Chevelles, two other Survival acts.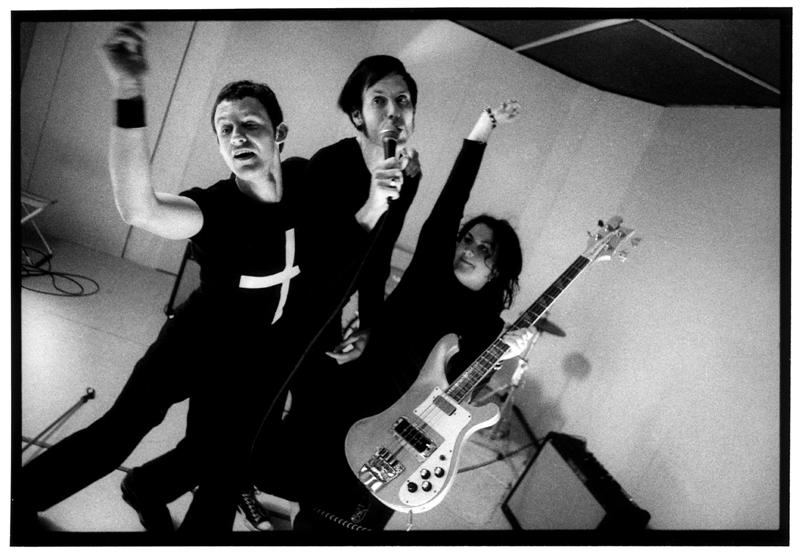 The 90s skipped by in a blur of recording and touring. We moved to Shock records and picked up a proper publishing deal with Mushroom records. We lost Tony in 1994, and Dean Shwereb joined the band. A bit of a turning point, we recorded Kitten Licks right after he joined, and we found ourselves busier still.
In 1999 we got signed to an American label who wanted us to hold off on recording another album until a long time after they'd released Kitten Licks in America. Impatient to keep up with our busy recording schedule, we released an album of covers (Home Age) to keep ourselves happy. Eventually our frustration drove us to dissolve the deal and we were free to get back to work! We recorded Rocks On The Soul and got our on the road again.
In 2002 we became self managed and moved to local outfit Rhythm Ace Records and released Take You Apart in 2003. We then released our singles album Introducing Screamfeeder in 2004, and an EP Delusions of Grandchildren in 2005. We've been pretty slack since then, but all of us are heavily involved in other projects. I think we'll definitely do more Screamfeeder recording before too long.
We played as a four piece in the early noughties, first with mike Squire on guitar, then with Darek Mudge who went on to join Intercooler and Disco Nap, and record a lot of the WE ALL WANT TO and WHATS material at his studio.
We then stripped back to the original 3 piece line up for the Kitten Licks tour in 2009.
Then we brought Darek back in and have been playing as a 4 piece ever since.
We've played in New Zealand, US, UK, Singapore, Japan, France, Germany, Switzerland and Spain, and we've played with a lot of our musical heroes along the way. It's been excellent fun, and I wouldn't change a thing.