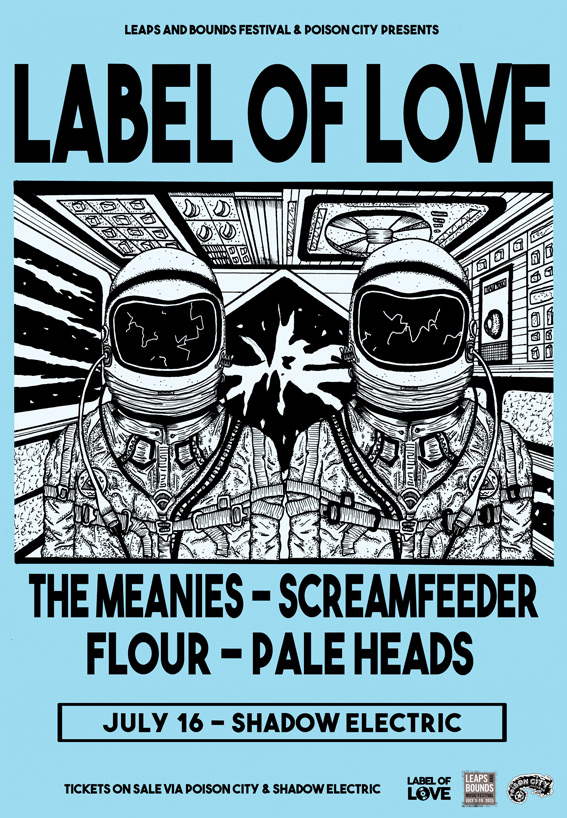 As part of the annual Leaps and Bounds festival, we're playing at LABEL OF LOVE, a POISON CITY RECORDS showcase, it's gonna be super rad. See you in Melbourne~!
THE MEANIES // SCREAMFEEDER // FLOUR // PALE HEADS
Born in the spare bedroom of a dingy share-house over a decade ago, Poison City has grown from a weekend hobby to one of Australia's most prolific and well respected independent labels. Home to the likes of The Smith Street Band, Harmony, Clowns, Batpiss, The Bennies, Deep Heat and Mere Women, Poison City is as much of a music community as a label or record store; presenting tours, local shows and their annual Weekender Fest.
In celebration of the Leaps & Bounds festival's 'Label Of Love' series of shows at Shadow Electric, Poison City has bought together two classics of the Australian underground, Melbourne's buzz-saw punk legends THE MEANIES and Brisbane's indie-rock darlings SCREAMFEEDER for one special night! They'll be joined by scuzz-rockers FLOUR and noise-rock all stars PALE HEADS (members of The Nation Blue / Batpiss/ ex.The Drones).