I have this huge box of master tapes, DATs, mini discs, the odd cassette, and CD backups. I've been carrying it with me from house to house as it's grown in weight ever since the early 90s when our recording journey started.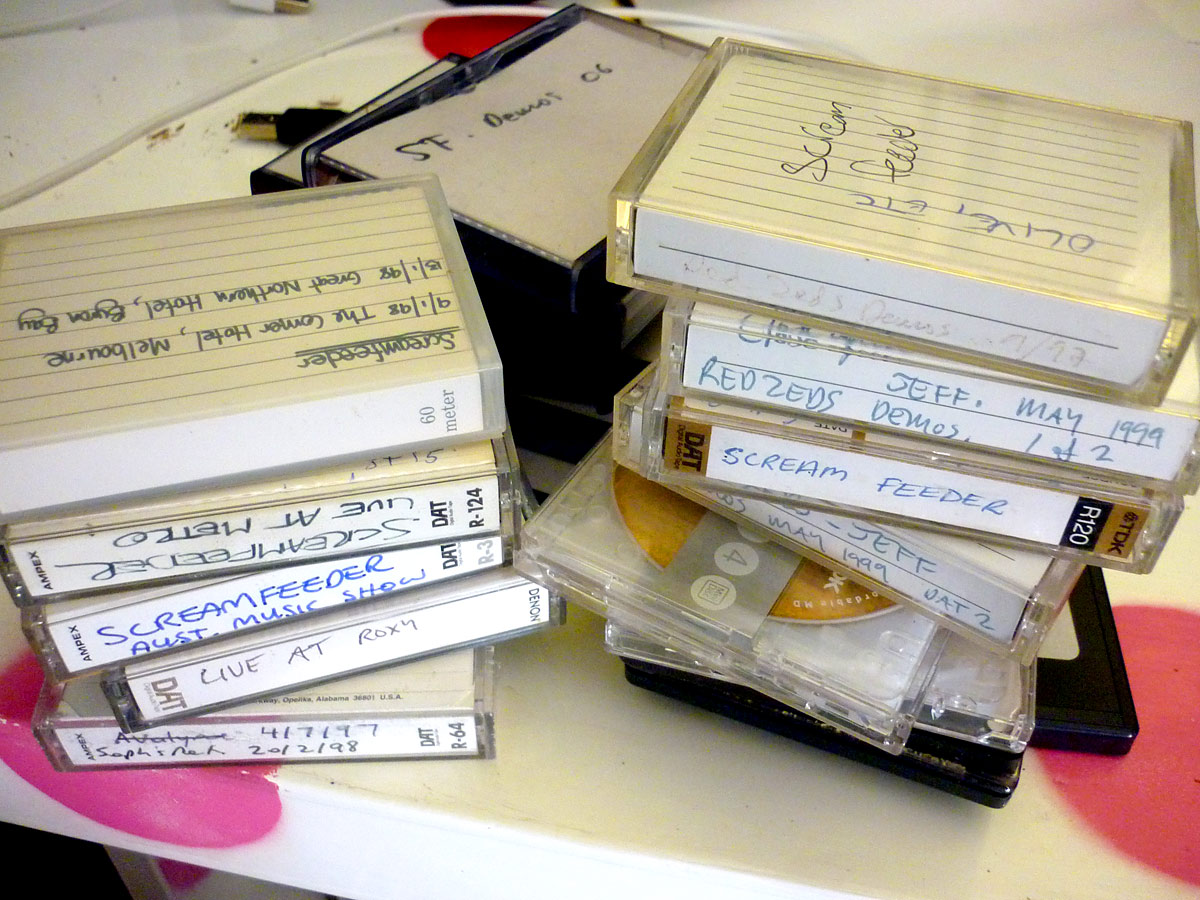 It was always one of those "one day I'll go through this stuff" projects. Now that day has come. Starting with the live recording of our most recent gig in March 2013 at The Zoo in Brisbane, we're going to travel backwards in time and release all the gigs we've recorded in the last 15 years plus.
There will probably be about 10-15 of them, perhaps more. If the quality or the performance of any gigs really sucks we'll probably choose to omit it. There is such a thing as too much Screamfeeder *believe it or not. Aside from that basic culling you're gonna get a Mt Everest of un-edited Screamfeeder, the term Warts-n-all will take on a brand new-found depth and breadth. What the hell though, it's about documentation, right?
The other thing we're doing is amassing a collection of demos from over the years. These will number in the 50-somethings – there are a lot of songs! This will be divided into two categories: a set of songs you've never heard before – ones we recorded but never released the first time round. In hindsight they pass the grade much more easily than at the time, when they were "not good enough".
Also will be a set of demo versions of songs you already know, which did make it through to the album recording stage.
I toyed with the idea of a 3rd set of songs, mostly awful sounding cassette-recorded practice room jams which only ever existed for one night.. but decided that perhaps the would be *fucking insanity*.
The music will all be available on itunes and bandcamp, and we'll try and sell them as cheap as we can, offsetting the cost of retrieval, and any mixing and mastering.
Clear some space of your hard drive and phone, and get ready for the onslaught. Close your eyes, you will almost feel like you were there. Perhaps you were?