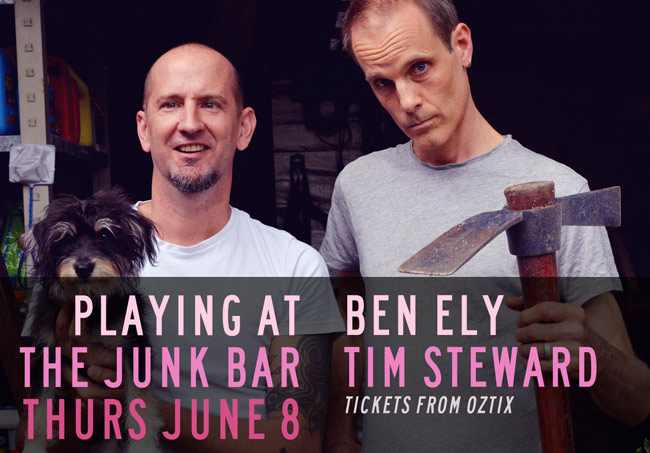 You know Tim and Ben, you've seen them round town.. in New Farm Park, on the Big Day Out main stage, in the cheese aisle at Ashgrove Woollies, or selling t shirts at The Zoo. These two have been representing Brisbane around the country and around the world in their bands Regurgitator and Screamfeeder for years, and now just for the fun of it they're going to quieten things down a bit and join forces on the Inner West's smallest stage.
THE SKUKUM LOUNGE @THE JUNK BAR HOSTS BEN ELY AND TIM STEWARD SOLO SETS, AND TOGETHER.
Both singers have recently taken huge leaps forward in the pursuit of better songwriting; in 2015 Ben released his sparse, haunting solo album Goodbye Machine.
"..Goodbye Machine is too good to deny ..This departure from previous sounds is instantly rich and engaging and one we can only hope he follows up.." themusic.com.au
"Despite the change of pace, Goodbye Machine proves Ely is as adept at playing soft and subtle as he is doing loud and abrasive.." Daniel Johnson
Tim was awarded the Grant McLennan fellowship and spent the European summer of 2016 in London on his own private songwriting camp. He returned to Australia and has recently re-banded together with Screamfeeder to record and release their 7th album Pop Guilt, containing many of his London songs.
"Thankfully Brisbane's Screamfeeder have never been very good at breaking up, and 25 years after their debut, Flour, they're still writing career-best songs. Screamfeeder pour a lifetime of indie-rock experience into this collection of blissed-out punk songs." Rolling Stone
Come and hear for yourself what happens when 2 guys who grew up on punk step out of their comfort zone and come a little closer to the essence of their songwriting styles.